Greve in Chianti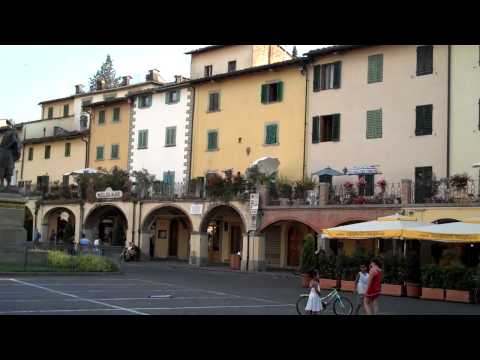 This video was taken at the beginning of August at Greve in Chianti (known simply as Greve before 1972) in the heart of Tuscany. As the principle town of the Chianti region it is a mecca for wine lovers and visitors on wine tours. It's a great day trip from Florence, plus you get to see the lovely Tuscan countryside in between! Easily the best (and most stress free) way to see the beautiful countryside of Chianti is with an organised tour;
The town was very quiet, as many smaller Italian towns are on Sunday, so don't let that fool you! On weekdays, there is a market in the town that has been running almost continuously for hundreds of years. The centre has a triangular piazza with lovely walkways along the two longest sides which house artisans shops, restaurants and bars. There is a monument to Giovanni da Verrazzano (who discovered New York harbour) in the Piazza.
If you'd rather stay in Greve in Chianti, Venere have 5 properties in and around the town.
Our favourite is Villa Le Barone, with an average guest rating of 9.1 (including a perfect 10 for the surroundings!) it has to be on the prospective list for anyone planning a tour of Greve in Chianti or Tuscany.