Flip Video Review of Mino HD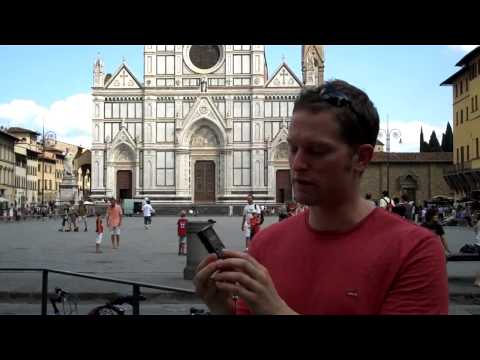 As you may have guessed, I use the Flip Mino HD exclusively on my site so it makes perfect sense that I should review this great little camera. Firstly, let me say that I am not sponsored by Flip Video and my site isn't some web 2.0 mind trick. I'm just someone who wanted a cheap, high quality camera to capture the sights of Florence and share them online. As I've been using the Flip Mino HD quite intensively over that past few weeks, I've come to find some of its great points and its limitations. It took me a while because this was my first ever piece to camera, so be kind!
Now, a review of the good bits of the Flip Mino HD:
Price – mine was £150* from Firebox.com (they delivered it here to Italy) and they have a US site. This technology just a few years ago would have been much, much more.
Size – it's the same size as a mobile phone. This means it's portable and can be carried anywhere; perfect for holidays where weight and/or size are limited.
Time to boot up – this may not seem obvious until you buy one but with limited battery life you can leave it off and switch it on when you see something good, it takes less than 3 seconds to be ready to record so you don't miss anything.
Quality – it's not true HD apparently (it's 720p). Do you care though? By the time people are streaming YouTube onto 60 inch plasma screens technology will have moved on and, most likely, so will you. Who else has a drawer full of old mobile phones/iPods/Walkmans (kids, ask your mum or dad)/CD players?
Software – it come with simple editing software which allows sharing, emailing and burning to DVD. I'm fortunate enough to have a Mac so I use iMovie but with FlipShare (the software that comes with the Flip Mino HD and Flip Ultra HD) you can do the things you need to.
The limitations:
The screen - it is tiny and things can look rubbish on it (especially when it's sunny) but you get home and the colours are vibrant and the shot looks great. So I never delete anything until I get home!
Zoom – there isn't one. Well, it's 2x digital not optical which means it's not getting you any closer to the action. You can do quite a cool zoom/cross dissolve effect which I discovered whilst going up the steps in my video for Piazzale Michelangelo but its usage is limited.
Weight – it's so light (sorry to complain, they probably worked hard on that) the first videos I took looked like I had the shakes. A steady shot is hard to get. After a while you get used to pan speed and how to hold it steady and there is a place to plug in a tri-pod which would eliminate the problem.
Lastly, the microphone picks up everything, not just the person speaking, as you can hear in the video. Once you know this, however you can adjust to limit the effect; get closer, choose a quieter spot that Piazza Santa Croce or add music on after as I do most of the time.
All in all, it's amazing really. The technology on the Flip Mino HD just a few years ago would have been £1000+. If you are in the US or Europe, you can get one from Firebox.com. They have separate US and European sites, just click the flag icon in the top right to choose.
If you make any cool videos with the Flip Mino HD, leave a comment and a link!
*on 02/07/09