Boboli Gardens or Giardino di Boboli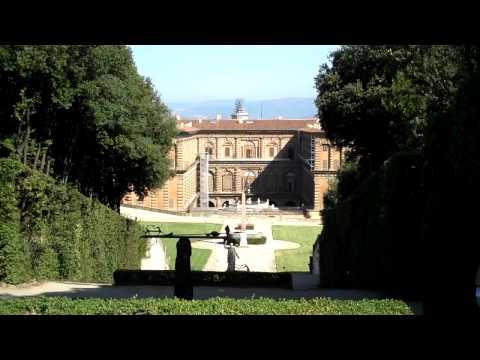 The Boboli Gardens or locally, Giardino di Boboli (ooh, he speaks Italian) are behind the Pitti Palace and are home to a collection of sculptures dating from the sixteenth through the eighteenth centuries, with some Roman antiquities. Plus there are some, ah, more recent additions scattered about the place. There's a sculpture of what looks like dung beetles fighting; that's my favourite.
The Boboli Gardens really are huge and it is possible to get (deliberately) lost in them for hours. Unfortunately, it is a constant work in progress so there will be barriers and "No Entry" signs here and there but with so many of the major works completed, the place really is a marvel in the centre of a city such as Florence.
A 10 Euro ticket from Giardino Bardini gives you access to the Giardino di Boboli which is easily enough walking and garden viewing for a whole day but if you want to go to see other museums on your trip to Florence, Alexandra at ArtTrav.com has some really useful information on how you can see everything on on ticket and skip the queues!