Piazzale Michelangelo At Sunset Or Sunrise?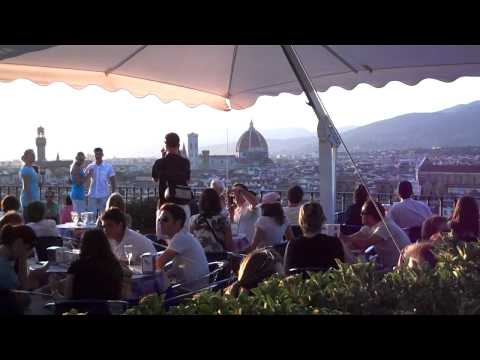 Although I have put this post in the Piazze category, it's not actually a piazza but a "Piazzale" (it isn't surrounded by buildings). Whatever the specifics, Piazzale Michelangelo should definitely be the place you spend your first Florentine sunset. Or, for the brave, your first Florentine dawn. There are various organised tours to suit all budgets from hop-on hop-off bus tours to a personal guided visit:
In the evenings groups gather on the west-facing steps to see the sunset. The light in summer is very orange and makes everything (and everyone!) glow. You can watch the sun setting over the hills of Tuscany and perhaps join in with the spontaneous round of applause when it finally disappears. It is truly a unique moment in any trip to Florence or indeed, Italy.
Dawn visits are strictly for the keen photographers or masochistic tourists. The thousands of vistas that populate Flickr are often taken from Piazzale Michelangelo and the Duomo is illuminated in the early morning but shadowed later in the day. Getting up there is quite a walk for those disinclined towards exercise (see the video) but most people can get up there without resorting to the chair lift.
Only joking; there is no chair lift, sorry.