Eskimo Bar – Florence's Second Beach!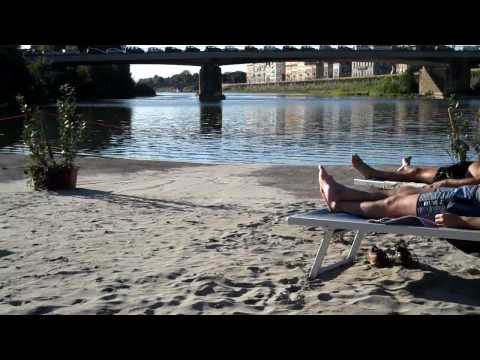 Eskimo Bar is new this year and it is definitely one for the Undiscovered Florence category. This cool bar is set beside a small man-made beach in the very centre of Florence, just down from the Ponte Vecchio. We got there by bicycle which is a cool way to see the city, especially when the weather is good!
It is a great place to hang out or tan; you usually have to pay for the sun longers (approx 3 Euros) but as it was late in the afternoon, the lady let us have them for free. OK, so we bought two Cokes for 6 Euros but still, this little beach in the center of Florence gets my vote! Some of you will notice that I have put this video in the nightlife category. That's because, although the video wasn't taken at night, Eskimo Bar also plays live music in the evenings. At other times there are DJs. The musical focus is South American/Latino mostly.