Giardino Bardini – Florence's Newest Renaissance Garden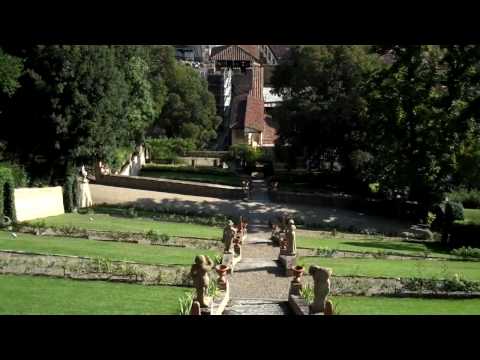 The Giardino Bardini was only recently opened to the public and the gardens and statues have been beautifully restored. The main entrance is on Via de' Bardi, just over the road from the Museo Bardini (see Google StreetView below) although the shop and another exit can be found on Costa di San Giorgio. From there, you can walk to Forte di Belevedere* and the Giardino di Boboli for which your ticket is valid. Entrance at the time of writing (August 2009) is 10 Euros.
The Garden is marvellous, especially in the early morning. If you are lucky, you can have the place to yourself (as I did) by going when it opens at 8:15. Be aware that the shop opens at 9 and the cafe doesn't open until 10. The early morning start is worth it though as the sun hits the terraces and it's also not too hot for the climb to the top. Once you are up there, if you exit on Costa di San Giorgio (turn left and follow the signs)  you can walk a short distance to the Giardino di Boboli and you enter at the top; it's all downhill after that!
This video was made after a suggestion from RobertaK on Twitter. Send me a suggestion and if I can, I'll shoot the video! Aren't I good to you?
*Unfortunately, a young woman lost her life at the Fort and it is now closed until it the investigation has completed